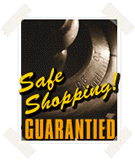 Alice in Wonderland and Through the Looking Glass
by Lewis Carroll
Alice in Wonderland narrated by Marvin Miller and Jane Webb. Through the Looking Glass narrated by Dana Craig




ABC Online Price $23.95

Includes Shipping & Handling in the U.S.

Availability: Ships in 24 Hours

Format: 5 Audio CDs / Unabridged
ISBN: 0-89926-163-9
Item No:JU5-206



Order This Book!









Description

Follow the merry adventures of Alice down the rabbit hole to Wonderland. Adventure, mayhem, and madness continue for young Alice after she climbs through the mirror hanging above her fireplace. Into the reflective world she travels, and soon she discovers that just as everything is backward in a mirror's reflection, so is everything, from backward sentences to backward logic, in the mirror world. A delightful tale for all ages.




About the Author
Lewis Carroll

Find Books with Similar Themes

Other Childrens Audio Books




Find Books with the Same Narrator

Other Audio Books narrated by Marvin Miller (1913-1985):



Treasure Island

The Best of O. Henry Volume 2

The Best of Mark Twain

Edgar Allen Poe's Tales of Mystery & Imagination

The Adventures of Pinocchio